About us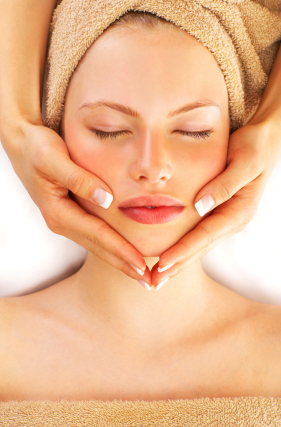 Some Prices have Increased from January 2013
AROMATHERAPY FACIALS BY EVE TAYLOR:
ALL OUR EVE TAYLOR FACIALS ARE TAILOR-MADE TO CATER TO EACH INDIVIDUAL CLIENTS SKIN TYPE. DEPENDING ON TIME LENGHT OF TREATMENT THERE IS AN EXTRA *TAO (TREATMENT ADD ON)
TAO'S
- HAND & ARM MASSAGE/ FOOT MASSAGE
- PRESSURE POINT FACIAL MASSAGE
- RELAXING HEAD MASSAGE
- NECK & DÉCOLLETÉ MASSAGE
PRICE:
40MIN FACIAL + TAO x1 €35
60MIN FACIAL + TAO x2 €55
90MIN FACIAL (INCLUDES 60MIN FACIAL AND 30MIN BACK NECK AND SHOULDER MASSAGE) €95
CRYSTAL CLEAR OXYGEN FACIAL:
SUITABLE FOR ALL SKIN TYPES AND SHADES. THE OXYGEN FACIAL IS FAST BECOMING A CELEBRITY FAVOURITE. BY PUMPING PURE OXYGEN INTO THE SKIN WITH THE ACTIVE SKIN CARE PRODUCTS IT WILL:
VISISBLY PLUMP OUT FINE LINES AND WRINKLES

REJUVENATE THE SKIN

GENTLE ENOUGH TO FIRM UP EYE AREA

IDEAL FOR FIRMING NECK CREASES

HIGHLY EFFECTIVE ON SUN-DAMAGED SKIN

ANTIBACTERIAL ACTION OF THE OXYGEN CALMS AND HEALS ACNE PRONE SKIN

STIMULATES COLLAGEN PRODUCTION BY SPEEDING UP SKIN CELL RENEWAL AND HEALING PROCESS

REPLACES LOST MOISTURE WHICH AGES THE SKIN
INSTANT RADIENCE WITH A NATURAL 'FACELIFT' LOOK
PRICE:
COURSE OF 5 TREATMENTS IS RECOMMENDED FOR LONG TERM BENEFITS, INCL 2 MASKS €300

SINGLE SESSION €90 (incl Mask) 45MINS

WAXING:
BIKINI €22
FULL LEG €47

FULL LEG & BIKINI €55
UPPER LEG & BIKINI €38
3/4 LEG & BIKINI €35
HALF LEG €28
HALF LEG & BIKINI €38
UNDERARM €17
HALF ARM €17
FULL ARM €22
TUMMY WAX €12
LIP WAX €12
CHIN WAX €12
SIDES OF FACE WAX €12
LIP & CHIN WAX €17
SPECIALIST WAXING:
CALIFORNIA WAX €28
BRAZILIAN WAX €40
HOLLYWOOD WAX €55
HALF LEG & BRAZILIAN €60
FULL LEG & BRAZILIAN WAX €80
HALF LEG & HOLLYWOOD WAX €75
FULL LEG & HOLLYWOOD WAX €95
EYECARE:
EYEBROW WAX/SHAPE €17
EYEBROW TINT €12
EYELASH TINT €17
EYEBROW WAX/SHAPE & TINT €25
EYELASH & EYEBROW TINT €25
3-IN-1 EYELASH,EYEBROW TINT & EYEBROW SHAPE €30
THREADING NOW AVAILABLE
Ask about Prices when Booking!!
MEN'S ZONE:
CHEST & ABDOMEN WAX €45
BACK AND SHOULDER WAX €40
EYEBROW WAX/TRIM €17
MEN'S POWER FACIAL €55
HEAVY LEGS MASSAGE 1/2 HR €40
(CHOICE OF ANY OTHER MASSAGE OR FACIAL ALSO AVAILABLE)
ELECTROLYSIS- PERMANENT HAIR REMOVAL:
10 MINUTES €17
15 MINUTES €23
20 MINUTES €33
30 MINUTES €43
TANNING:
New COCOA BROWN 1/2/3 hr Tan

FULL BODY €30

UPPER BODY €20
LEGS ONLY €10
HE-SHI RUB ON
FULL BODY €38
UPPER BODY €27
LEGS ONLY €10
MAKE-UP By MII

1 HOUR MAKE-UP LESSON €85
EYES ONLY LESSON €70
MAKE-UP APPLICATION €38
EYES ONLY APPLICATION €28
2 week INDIVIDUAL LASHES €25
STRIP LASHES €10

NAILS
SHELLAC TWO WEEK POLISH. Chip Free and No Drying Time!
Lots of New Colors to choose from.

Shellac €30
French €35
Removal €10 €Diamonds €10
OFFERS!!
Fingers & Toes €50
5 Shellac for €100

LUXURY BODY TREATMENTS
INDIAN HEAD MASSAGE 30 MIN €40
SWEDISH/ DEEP TISSUE/ PREGNANCY MASSAGE 60 MIN €70
HOT STONES MASSAGE 60MIN €80
SWEDISH/DEEP TISSUE/ PREGNANCY MASSAGE 30 MINS €50
HOT STONES MASSAGE 30 MIN €55
REFLEXOLOGY 60 MIN €70
AROMA FLEX (30 MIN BACK MASSAGE & 30 MIN REFLEXOLOGY) €70
FULL BODY EXFOLIATION €45
FULL BODY EXFOLIATION & SPRAY TAN €65
PACKAGES
HOLIDAY PREP PACKAGE
FULL LEG WAX, BIKINI WAX,/SHAPE & EYELASH TINT €80
MUM- TO- BE PACKAGE 1
40 MIN FACIAL & 30 MIN PREGNANCY MASSAGE €75
MUM- TO- BE PACKAGE 2
60 MIN FACIAL & 60 MIN FULL BODY PREGNANCY MASSAGE €115
BRIDAL PACKAGE
40 MIN FACIAL, FULL BODY EXFOLIATION & FULL BODY TAN €95
TRIAL MAKE- UP €50
MAKE-UP ON DAY (CALL OUT CHARGE APPLIES) €38
PAMPER PACKAGE
60 MIN FACIAL & 30 MIN HOT STONE MASSAGE €95
STRAWBERRY LASER LIPO
The Latest Pain Free, Fat Busting, Weight Loss Treatment Exclusive to 4th Avenue.
Free Consultation, One Treatment €150, Recommended Course of 8 €1,000
Call us for more Info.....

You can now Book Online 24/7
*PLEASE NOTE: FOR TREATMENTS OVER A CERTAIN TIME OR CERTAIN COSTS WE ARE OBLIGED TO TAKE CREDIT/DEBIT CARD NUMBER WHEN MAKING AN APPOINTMENT. TO CANCEL AN APPOINTMENT WE REQUIRE NO LESS THAN 12 HOURS NOTICE AND IN THE UNLIKELY EVENT OF LAST MINUTE CANCELLATION A 50% COST OF TREATMENT WILL BE DEDUCTED FROM THE CARD AND FOR A 'NO SHOW' 100% COST OF TREATMENT WILL BE DEDUCTED. EMAILS WILL BE REPLIED TO WITHIN OPENING HOURS.
THANK YOU.